---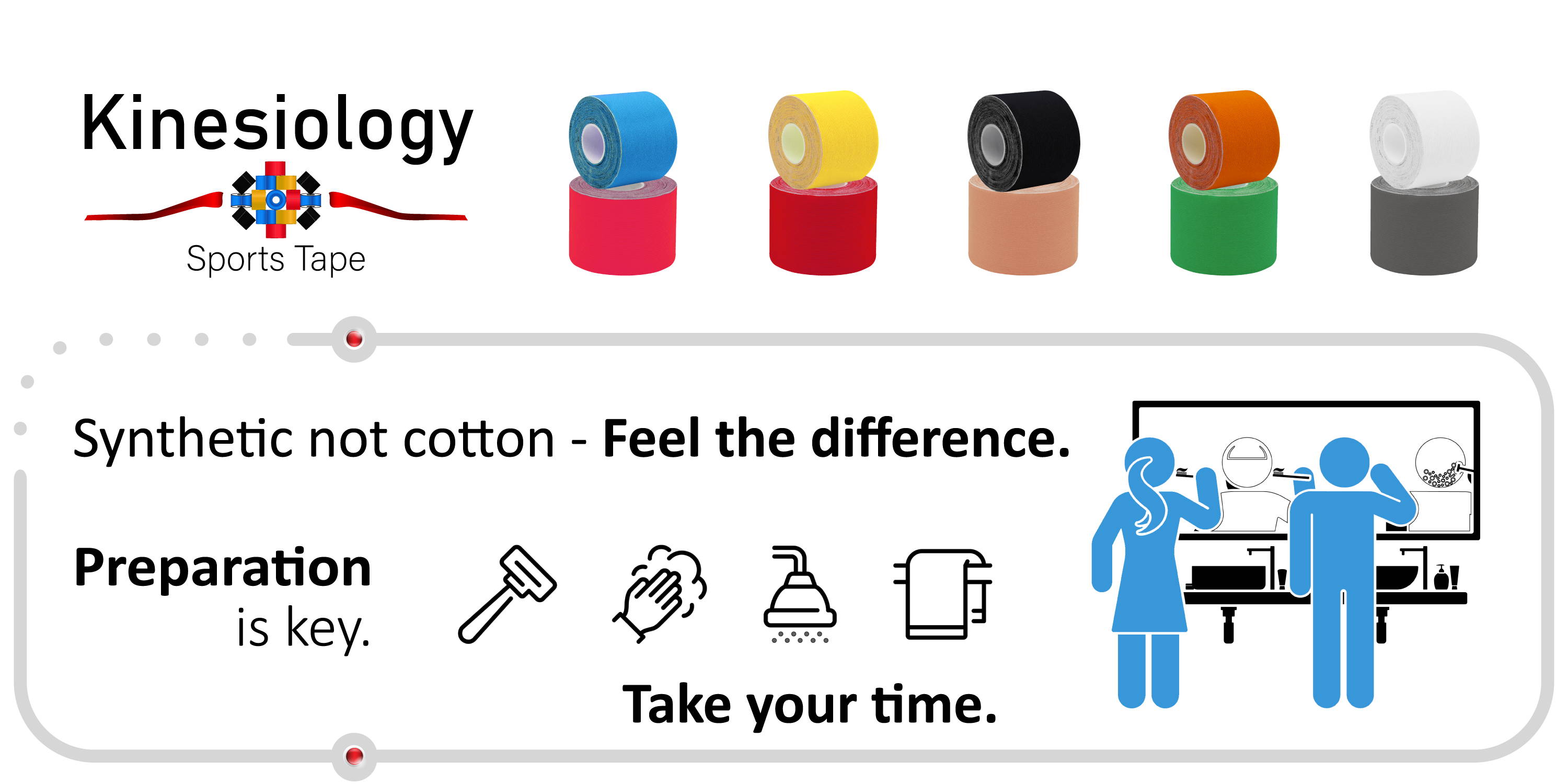 ---
1 : First pinpoint the specific muscles that are sore or painful, on the part of your body where you are experiencing pain, discomfort, or fatigue.

---
2: Ensure your skin is washed, shaved, dry, and free of oil on the area you will be applying kinesiology sports tape. We recommend using a safe degreasing agent like surgical spirit and gently dabbing it on your skin before applying kinesiology sports tape, to get the most out of the product and to extend wear after you apply.

---
3: Cut the tape to the appropriate length for application on the area you wish to treat (if required) and have the number of strips you are planning to use to hand.

---
4: Get your tape anchors ready. These anchors (roughly 1.5 inches from both ends), should not be stretched when you apply them. To prepare your anchors, peel off the backing, going down to the second anchor point. There is no need to worry about tearing the tape as it's made to be both durable and ultra-flexible.

---
5: Prepare the tape, either with or without stretch, depending on what is recommended in the taping methods guidelines for your condition. As a guide, 0% equals no stretch needed, 100% means maximum stretch. To achieve maximum stretch, expand the tape completely.

---
6: After stretching appropriately, apply the kinesiology Sports tape strip, making sure to carefully place it level on the skin. Once you have applied, peel off the anchor backings and apply the tape anchors, without any stretch. Be sure to place the tap smoothly and check it is lying flat on the skin, so you avoid forming wrinkles, which can exacerbate blisters and sores.

---
7: After you have placed the tape on the treatment area, rub the area to generate heat for a short period. Doing so will activate the heat-sensitive adhesive and encourage the tape to bond to your skin securely.

---
How to remove Kinesiology Sports Tape: The easiest way to remove kinesiology sports tape is to apply oil over it and wait approximately ten minutes, then gently peel back holding the skin underneath firmly. Do not rip or pull with force as it can be painful especially if it is a hairy part of the body.
---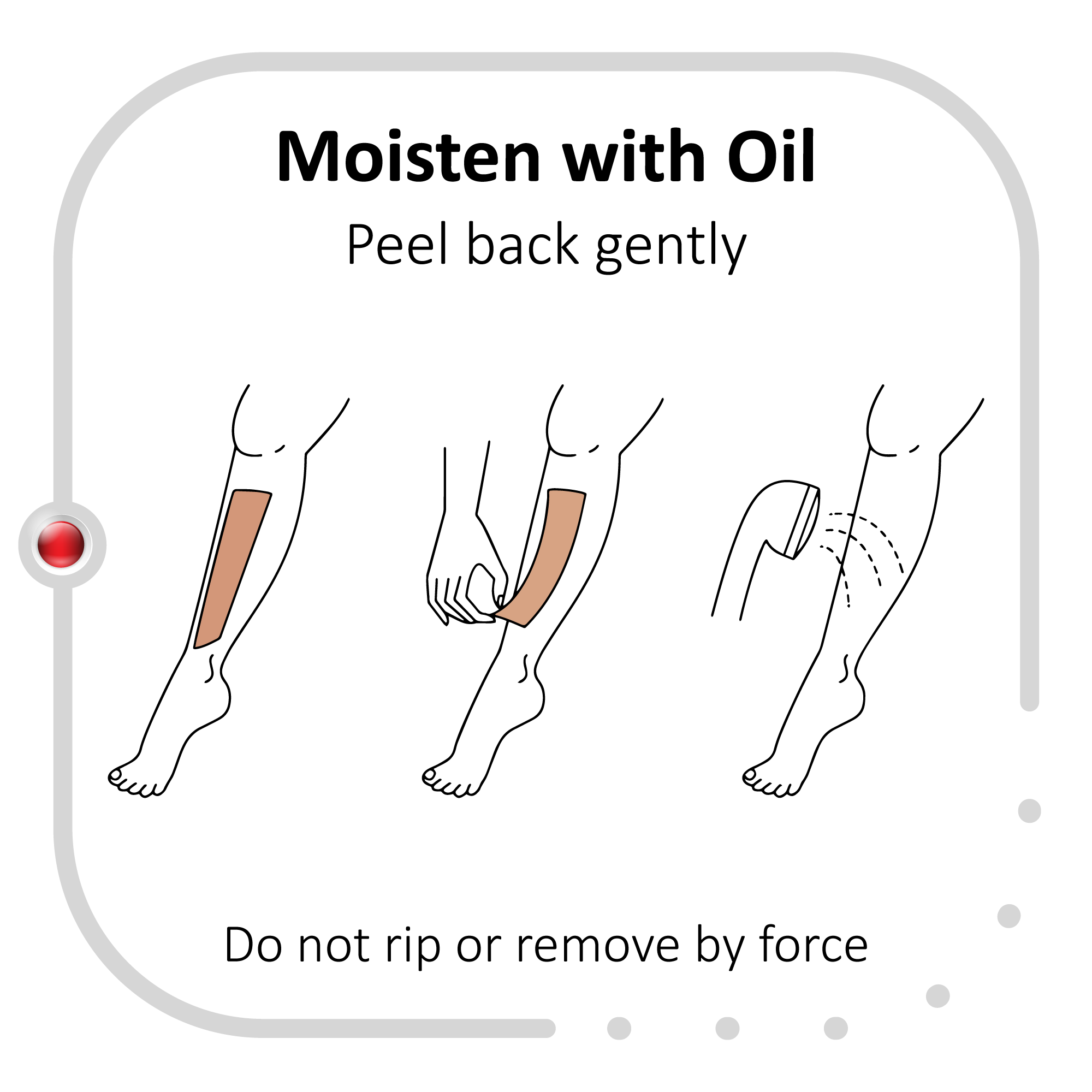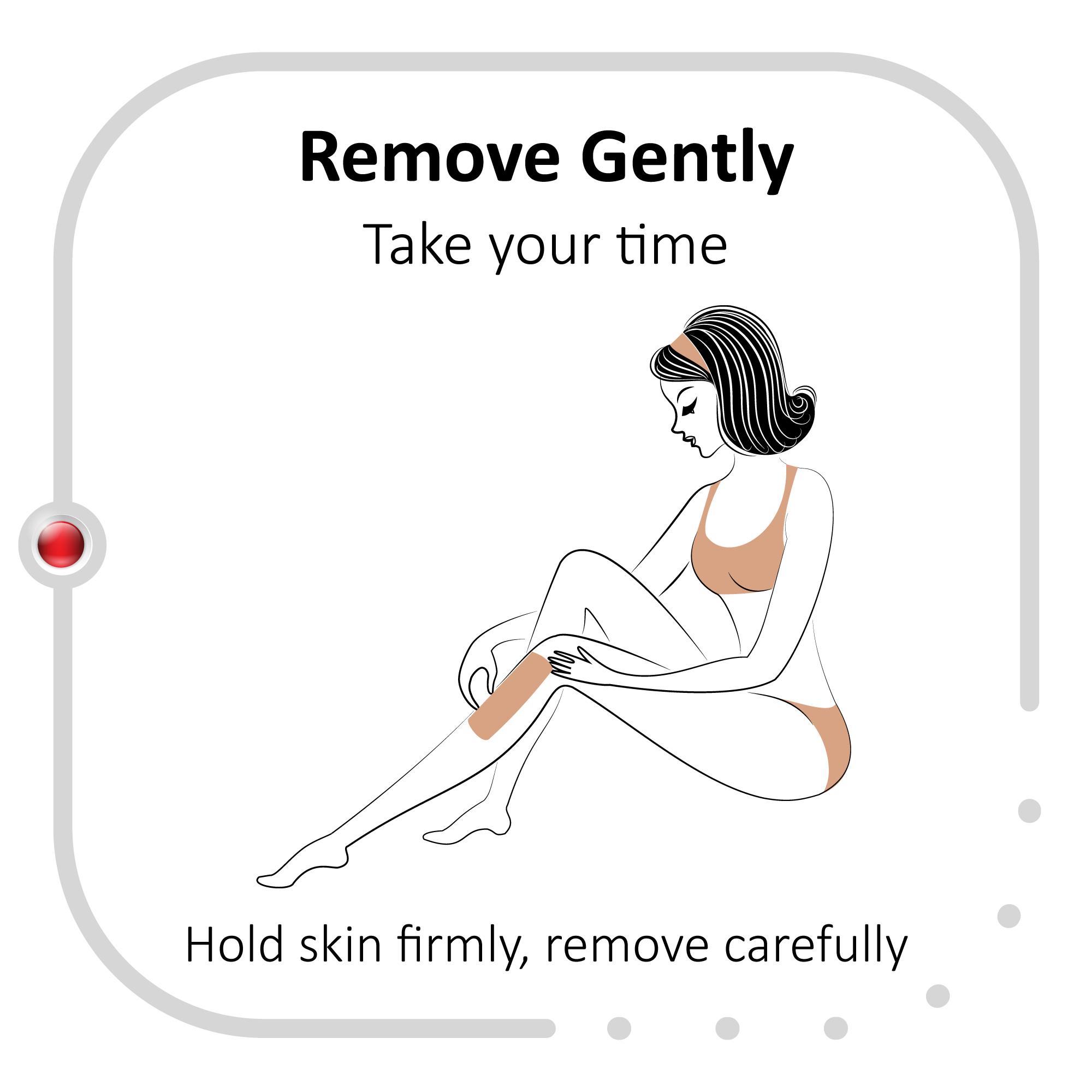 ---
---
---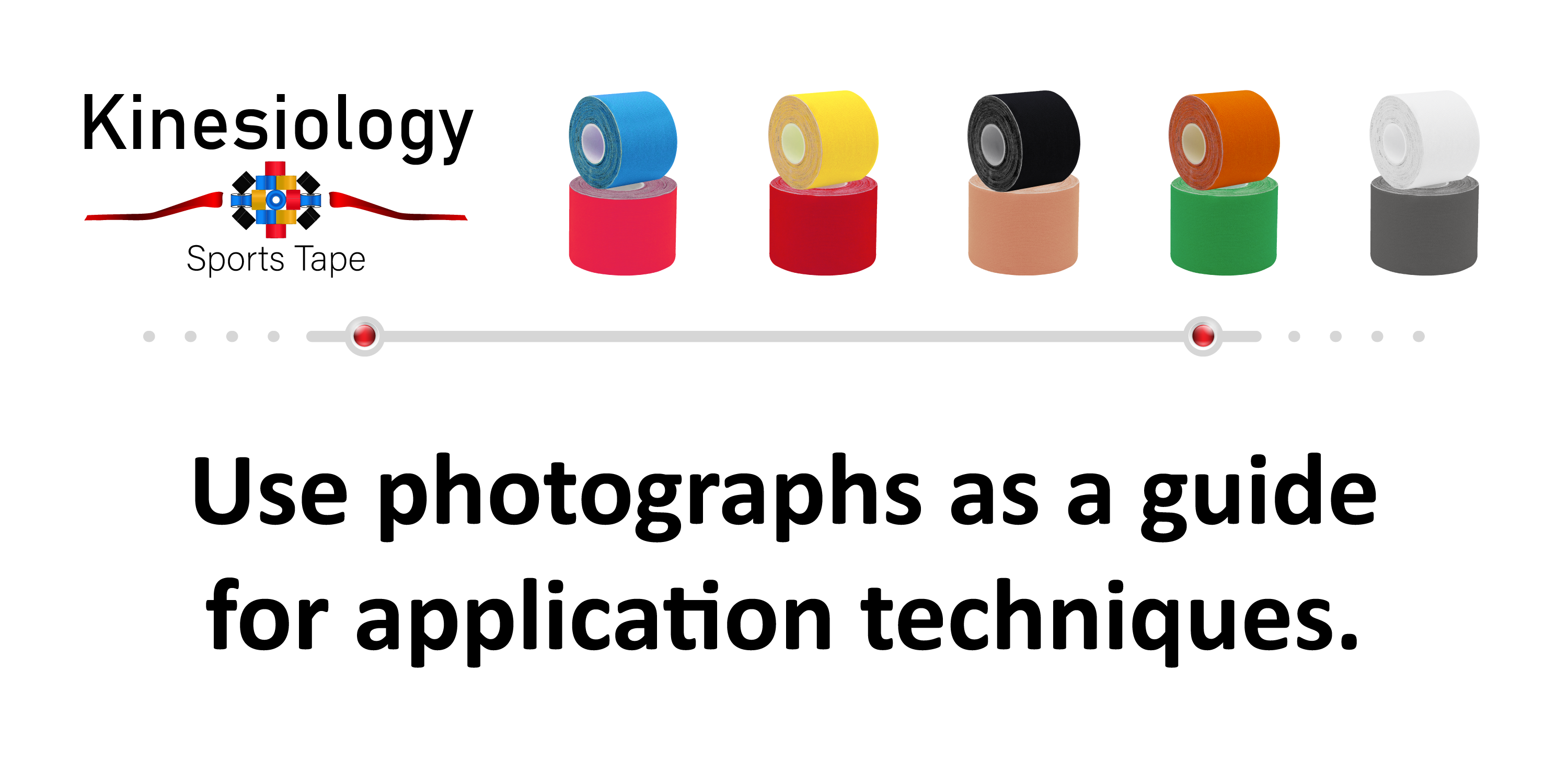 ---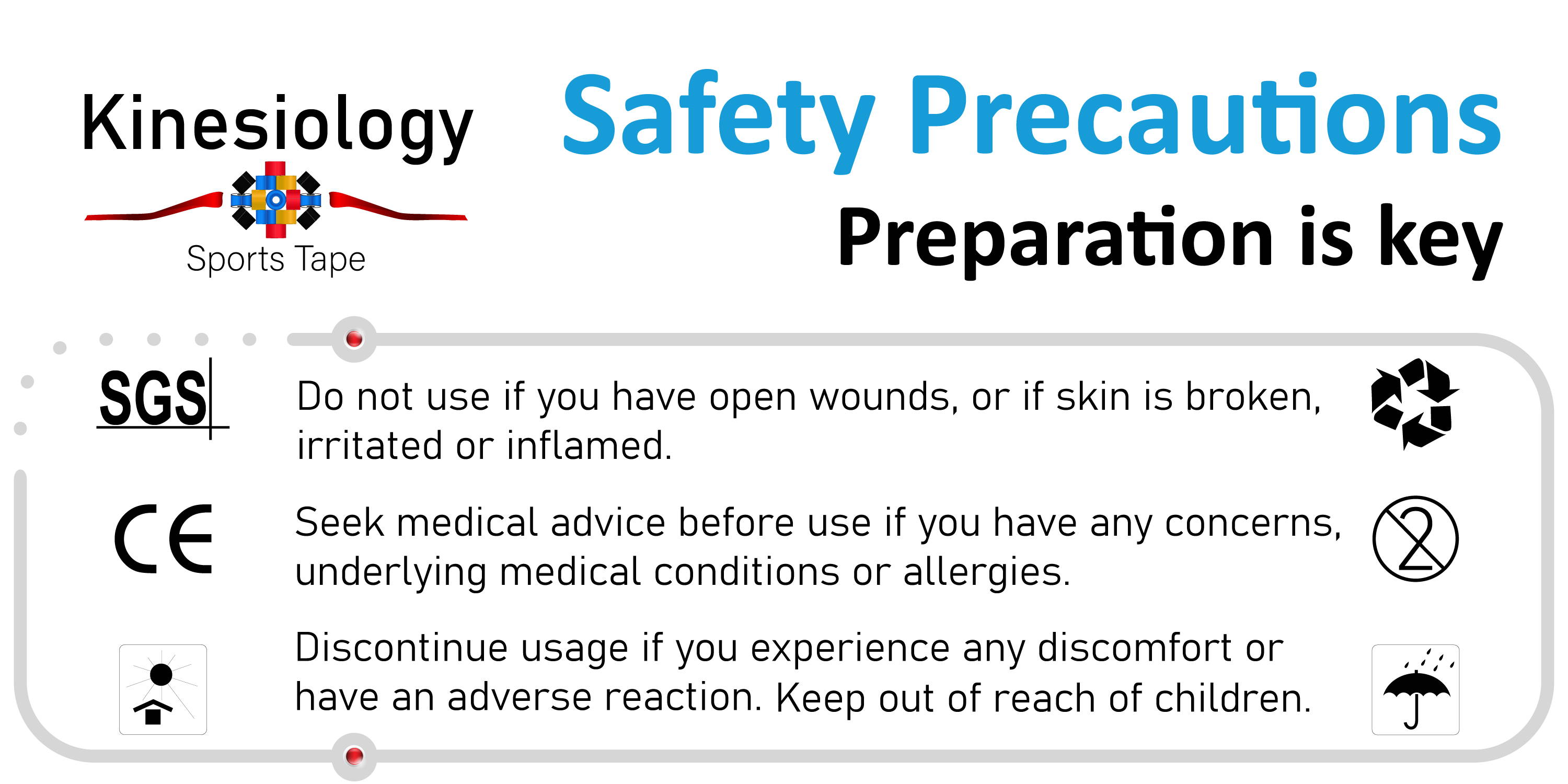 Please do a test patch before applying kinesiology sports tape. Our tape is safe but as a precaution we recommend all our customers to do a test first. This way you can avoid any negative or allergic reaction.
Kinesiology Sports Tape, KT Tape, Precut Kinesiology Tape, Kinesiology Tapes, Kinesio Tape, Muscle Tape, Sports Tape, Face Tape, Neck Tape, Boob Tape, Body Tape, Kinesiology Tape Elbow, Kinesiology Tape Knee, Kinesiology Tape Ankle, Kinesiology Tape Waterproof, Kinesiology Tape Synthetic, Pre-Cut Tape, Precut, Synthetic Tape, Tape with Dispenser, Face Tape, Boob Tape, Kinesiology Knee Tape, Kinesiology Ankle Tape.