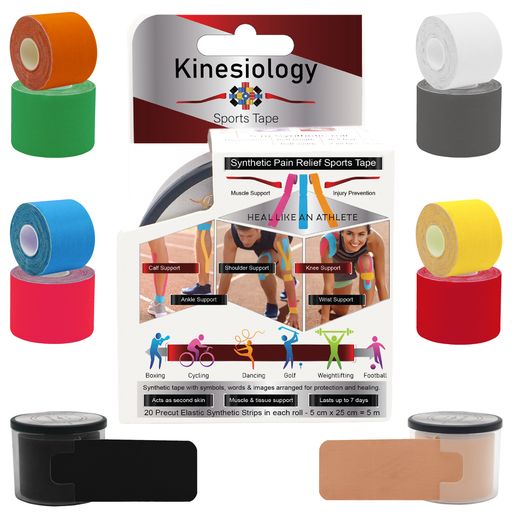 " srcset="//kinesiologysportstape.com/cdn/shop/articles/pf55gPlF_1170x.jpg?v=1668684787 1200w, //kinesiologysportstape.com/cdn/shop/articles/pf55gPlF_300x.jpg?v=1668684787 300w" sizes="(max-width: 1200px) 100vw, 1200px">
Most people assume that when it comes to kinesiology sports tape, it is something which you wear after an injury or when something begins to play up - a preventative measure. However, we've got an alternative theory, and it is one we want to share with you. We think you can wear the tape all day, every day, and it'll be good for you. So, with that fun idea in mind, let's talk a little bit about how sports tape can be a good call for the everyday person.
Providing Much-Needed Support
It is important to understand that for some people, walking and doing daily exercise isn't an easy or enjoyable topic. There are many moments where the idea of trying to get around is painful due to ongoing conditions which worsen with exercise or other physical limitations.
These restrictions can make it hard for people to live rich and active lives, which is a shame. There is ultimately a good case for people who want to use sports tape every day because it strengthens those areas.
We heard of a recent story where a man couldn't walk for more than about five minutes before his ankles began to hurt to the point it left him limping - clearly a structural issue or muscle problem. But by using sports tape, he could exercise normally. That's the power of what it does. 
Easy to Apply and Use
The great thing about sports tape is that it is pretty easy to use on a regular basis. For a lot of people, this does mean getting the hang of the idea that they need a little more support for everyday tasks. 
Thankfully, our kinesiology sports tape is easy to apply, and you can use it pretty much everywhere you go. It is discreet enough that you can wear it under work clothes or to social events, and nobody will know. This makes it a great tool for getting the best results. 
Make sure you replace the tape every few days, though. Like anything else, if you wear it for too long without hygiene and the right support, it can get a bit nasty. Our sports tape is good for roughly 2-4 days of constant use - feel free to adjust those times depending on what works for you, of course. 
Final Thoughts
So, when it comes to things like kinesiology sports tape, we subscribe to the idea that you can use it on an everyday basis with no problems. For some people, it provides much-needed support on a daily basis which can be exactly what they need to thrive. When it comes to things like getting the support you need to live, we're happy to help. We have a range of products and colours available, so you're free to examine the options. There's probably a tape for everyone here, so take a look. If it can help you, it's worth giving it a go!