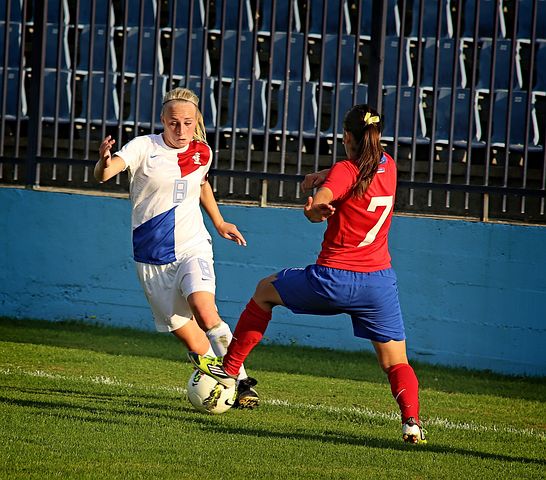 So the dust has settled, and we are revelling in the fact that football is coming home. The Lionesses lifted the cup for England and took a major title for us in many, many years. First, can we just say congratulations to the amazing team but also take a moment to reflect on just how many of them seem to know and love kinesiology tape? We are delighted!
The first player we clocked sporting beige tape was Jill Scott, and later three UK subs and one of the German players too. Scott seemed to be using the tape to support her knee, and we can testify to just how useful this can be. Now, we are not world-class athletes, so our personal experience does not come from over 90 minutes on the football field, but we know enough to testify that she will be experiencing some real support. 
We could not be more excited to watch a match where the product we love is so prominently displayed and clearly valued by these amazing ladies, and whether you have an injury or a weakness, urge you to take a leaf out of their book and give it a try!
How Does it Benefit You?
So, when it comes to kinesiology tape, it's important to understand that there are a lot of benefits for you to discover for yourself. You'll want to take a look at some of the different options to see why!
This kind of tape is good for supporting and relieving pain in the muscles and joints. It can help a lot with ligaments too. Other issues that kinesiology tape can help with include things like reducing swelling, increasing recovery time and enhancing the overall mobility of a person.
You'll also find that Kinesiology Tape can help you with a range of issues that pertain directly to the muscles and joints in the body, such as sprains and strains, tendinitis, subluxations, and many more. There is also a degree of pain relief during activities.
Unlike other kinds of healing and supporting aids, kinesiology tape doesn't hinder the range of movement that a person has in their body. Instead, it allows the body to heal all on its own, which makes for a lot of powerful pain support.
How Does Kinesiology Tape Work?
So, when the body is injured and it gets inflamed or swells, a lot of blood and fluids begin to build up inside it. This isn't good for someone, and it means that if there is too much inflammation, which can happen, the excess isn't removed by your lymphatic system. This problem means that the lymphatic vessels in the body are compressing due to the strain, which prevents vital nutrients and oxygen from being passed to the areas of issue.
Kinesiology tape helps to prevent this by making sure that the natural elasticity in the design allows for a space to allow blood and lymphatic fluid to flow again, meaning that the body can heal on its own.